Johnson County Central Wrestling
Johnson County Central Wrestling
Head Coach: Neil Bowman
Assistant Coaches: Larry Kuhl, Josh Bailey, Carlos Prado
Social Media Accounts:
Twitter | Facebook | Instagram
---
2021-22 Schedule:
Dec 4th @ Harvard
Dec 10th @ Bellevue West
Dec 11th @ North Bend
Dec 16th Triangular @ Louisville
Dec 18th Home Invite (Middle School Gym)
Dec 30th Quad @ Lincoln Christian
Jan 6th Triangular @ Freeman
Jan 7th Dual @ Wilber-Clatonia
Jan 13th @ Yutan
Jan 17th @ Weeping Water
Jan 18th Home Dual vs Fairbury (High School Gym)
Jan 21st @ Louisville
Jan 28th @ Freeman
Feb 4th ECNC Invite @ Weeping Water
Feb 11th/12th Districts @ Centennial
Feb 17th/18th/19th State Championships
Girls Wrestling:
Dec 9th Triangular @ Weeping Water
Dec 11th @ West Point Beemer
Dec 16th @ Fairbury
Dec 28th @ Winnebago
Jan 8th @ Beatrice
Jan 17th @ Nebraska City
Jan 18th Home Dual vs Fairbury (High School Gym)
Jan 21st @ Louisville
Jan 22nd @ Weeping Water
Jan 29th @ Cedar Bluffs
Jan 31st ECNC Invite @ Weeping Water
Feb 4th/5th Districts @ Amherst

---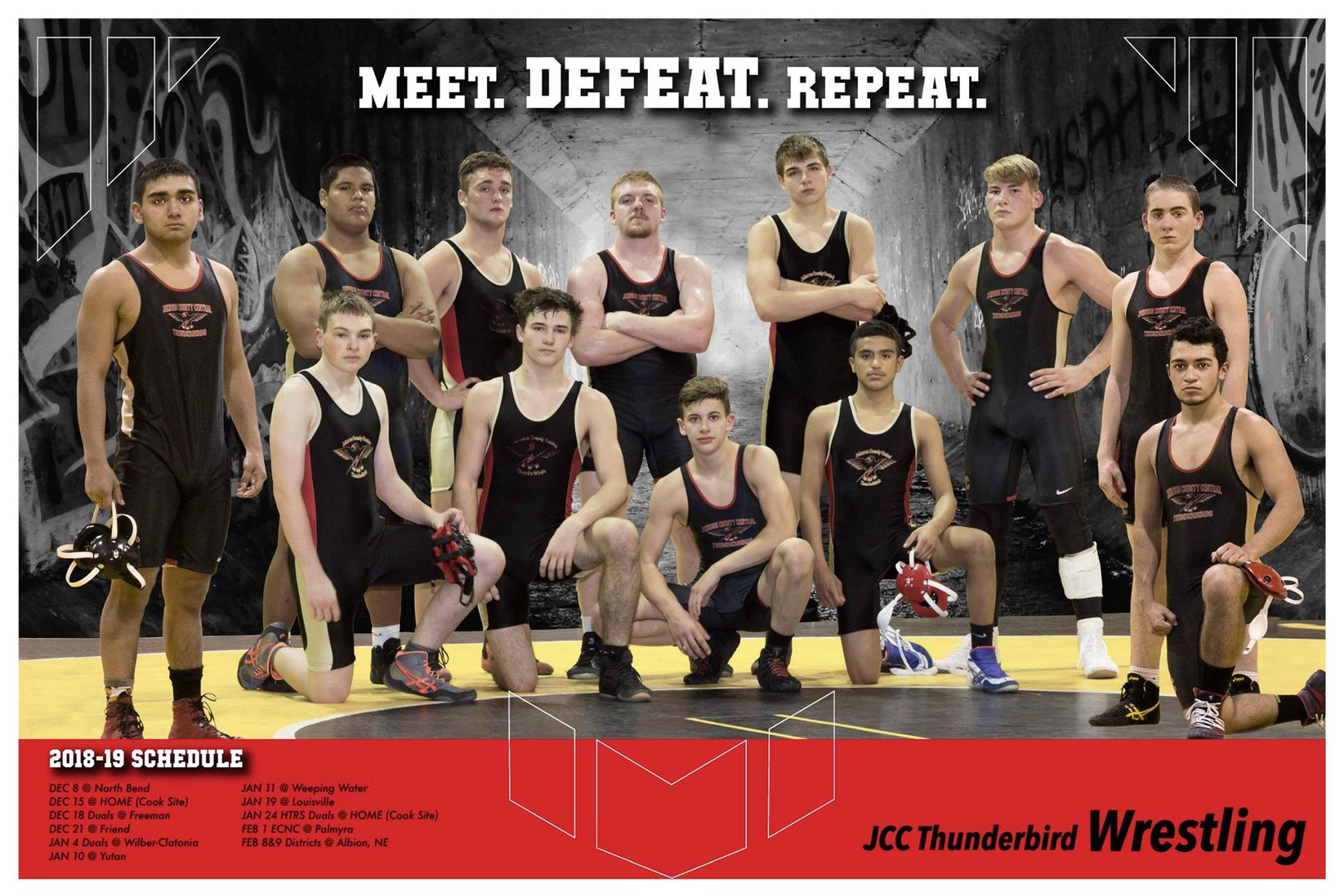 State Qualifiers:
Congrats to our five wrestlers who have qualified to compete at State Wrestling!
STATE QUALIFIERS:
Julio Reyes (106)
Caleb Eggleston (132)
Levi Dorsey (145)
Simon Rother (195)
Josh Bailey (220)
For more information on state wrestling, please visit https://nsaahome.org/nsaa-individual-wrestling-championships-hq/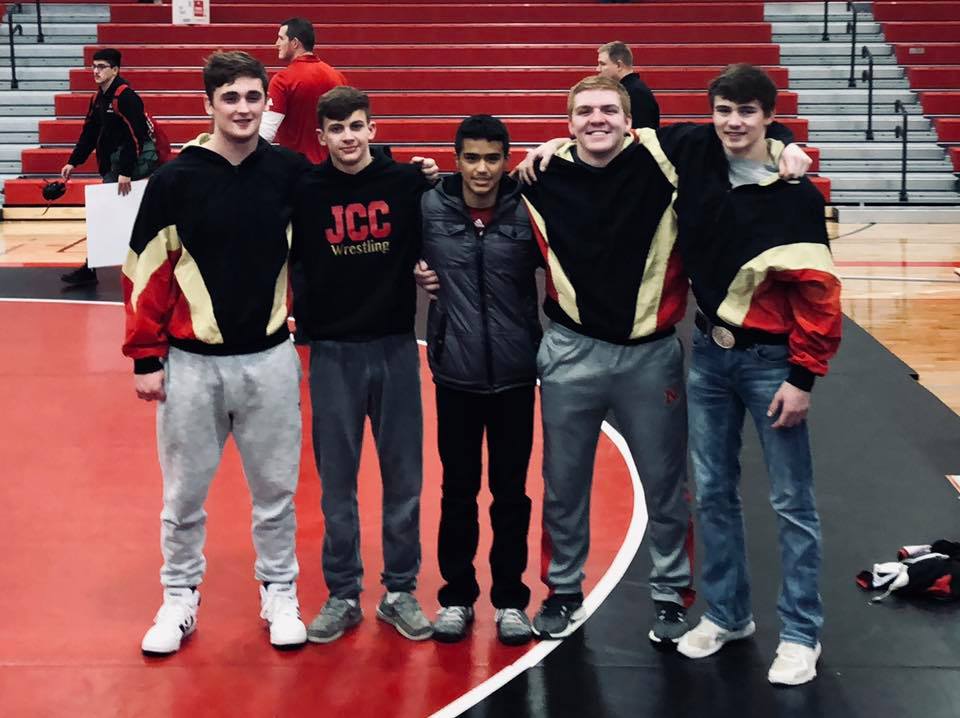 CLASS C DISTRICT 2 TOURNAMENT RESULTS:
Congratulations to the Thunderbird wrestlers and coaches on their 6th place team finish out of 16 teams at the Class C District 2 Tournament with 90 points!
Individual results:
106 Julio Reyes (2-1) 2nd STATE QUALIFIER
132 Caleb Eggleston (4-1) 3rd STATE QUALIFIER
138 Dalton Berkebile (1-2)
145 Levi Dorsey (2-2) 4th STATE QUALIFIER
152 Joe Rodriquez (2-2)
195 Simon Rother (3-2) 4th STATE QUALIFIER
220 Josh Bailey (2-1) 2nd STATE QUALIFIER
285 Aldo Reyes (0-2)
State qualifiers will be competing in the 2019 Nebraska State Wrestling Championships at the CHI Center in Omaha on February 14-16.
---
2018-19 Schedule:
December 1st @ Friend
December 8th @ North Bend Central
December 15th @ JCC Middle School (HOME - Tournament) - RESULTS
December 18th @ Freeman
January 4th @ Wilber-Clatonia
January 10th @ Yutan
January 11th @ Weeping Water
January 17th vs HTRS (HOME - Dual)
January 19th @ Louisville
February 1st @ ECNC Invitational (@ Palmyra)
February 2nd - TBD (UNK)
February 5th - JV Invitational (Lincoln High)
February 8th-9th - District Championship (Boone Central High School)
February 14th-16th - State Championships (CenturyLink Centra Omaha)
---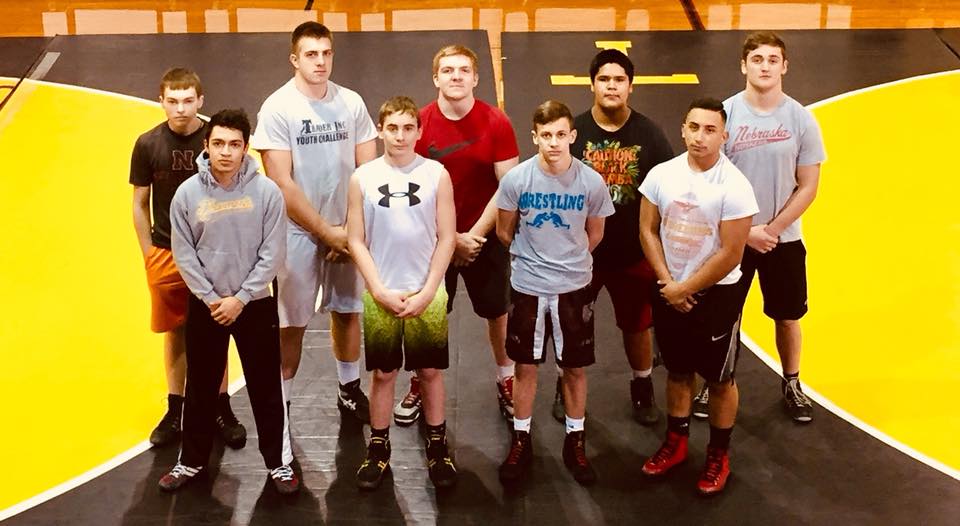 Congratulations to Josh Bailey (220) and Nick Goracke (285) on qualifying for the 2018 Nebraska State Wrestling Championships!
Click here for more information on the 2018 NSAA Individual Wrestling Championships. Please be sure to check all spectator information, including the CenturyLink Center Omaha facility's clear bag policy.
Wrestling for Class C begins at 9:30 AM on both Thursday & Friday (click here for a full schedule breakdown).
Click here for the Class C 220 Weight Class Bracket. (PDF)
Click here for the Class C 285 Weight Class Bracket. (PDF)