News from First Grade
Mrs. Faris

The first graders enjoy watching the changes from summer to fall, and now from fall to winter. We are very curious in learning about the world around us. We used watercolor paints to create our own fall leaves, and they turned out beautiful. They were up in the hallway among our Thanksgiving turkeys.

Our turkey project is a favorite from year to year. It's called, "I'm NOT A Turkey!" The students construct a turkey out of construction paper, and then take it home with a note. The note asks the parents to help their child create a disguise for the turkey. When they are disguised and returned to school, each student writes a story using a graphic organizer. Students must write their story from the turkey's point of view. First they have to name the turkey and tell where he/she lives. Next they have to tell about their costume and where they (the turkey) found it. They also tell where they are hiding, and ask the reader not to tell anyone that you've seen them. Last, the turkey gives his/her opinion on another food that would be better than turkey for the Thanksgiving meal.
This year's turkeys are disguised as a dancer, a star, a cell phone, Husker football players, Spiderman, Santa Claus, a soldier, a surfer, a snowman, a farmer, a hunter, a saber-toothed tiger, a construction worker, a bee, a pirate, and a Christmas tree.

The food choices are always funny. According to the turkeys, this year the Thanksgiving foods should be macaroni and cheese, pizza, cheeseburgers, potatoes, chicken nuggets, salad, sandwiches, soup, carrots, tacos, hot dogs, beef, ice cream, noodles, apple pie, and hamburgers.
Our next project is to find Rudolph a new nose that will help Santa deliver presents on Christmas Eve. We will also be learning about Christmas in Mexico. We will learn Spanish words for the days of the week, months of the year, family names, color words, number words, and also about Christmas traditions. We will discuss the posadas, or the processions that take place for nine nights beginning on December 16th and lasting until Christmas Eve.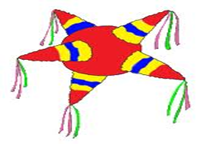 Posadas are held in neighborhoods where each night a different home is selected. A song is sung outside the house asking for shelter for the night. The family inside responds by saying there is no room. This goes back and forth until the door is opened and the procession goes inside. Once inside the home, a celebration, big or small, takes place with readings, special foods, and pinatas for the children. The Christmas holiday in Mexico continues through January 6th, which is El Dia de los Reyes (day of the kings or the wise men). Traditionally, this is the day Mexican children received their gifts.
We will have our own fiesta before we dismiss for the holidays! The students don't know what I have planned, but the parents are helping me with it. It will be a wonderful time!
Thank you for reading our First Grade news.
From our class to all of you,