News From The Art Department
This November, the UNL Department of Art & Art History will exhibit the artwork of the best high school artists from Southeastern Nebraska. This will be the second year for UNL "Nebraska's Best" exhibition series. Last year's show featured the work of schools in Omaha and Lincoln, and this year the show will include high schools in the 18 counties in southeast Nebraska. The show will be entitled "Nebraska's Best: High School Artists from Southeast Nebraska". Area high school Art teachers were invited to select a student to take part in this exhibition in the beautiful Eisentrager-Howard gallery at the University of Nebraska, Lincoln. This large, 3-room professional gallery is located in Richards Hall, just south of Memorial Stadium at UNL.
Southeast Nebraska art teachers from high schools in the 18 counties were invited to send a piece of artwork by one student. The student chosen will be the only exhibitor from each school.
Art teachers were encouraged to choose a promising student who's work would best represent their schools art program. The work could be in any medium, and either 2D or 3D.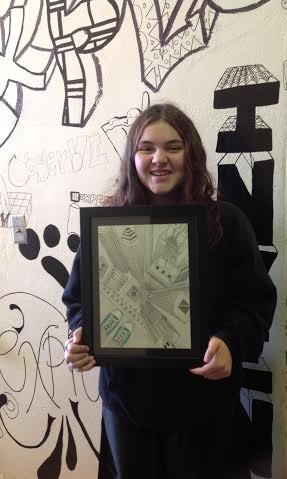 Art Instructor Ms. Joni Fox chose Art II student Sierra McClintock's drawing, Free Perspective, to represent J.C.C. art department.
The show will be open to the public from November 6 to November 24.
There will be a formal opening reception for the show on Friday, November 6, from 6:00 to 8:00pm. Awards will be announced at 7:00pm.
November 6: Opening reception, 6:00pm to 8:00pm.
Doors open at 6:00pm and awards will be announced at 7:00pm.
Hours and tours: The show will be open M-F, 12:30pm to 4:30pm or by appointment.
Please contact Andrea Maack (amaack@unl.edu) to set up a time.