---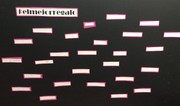 These are their tweets. Next time I'll have them write in marker!
---
¡Feliz Año Nuevo!
¡Hola!
Hard to believe that we have reached second semester. Last semester Spanish I and III participated in a "Navidad Madness" bracket. Similar to basketball's March Madness, we viewed Christmas commercials from various Spanish-speaking countries and voted on their favorites. It was fun to see them focus on the message of the commercials and not become overwhelmed by the fact that they were in Spanish. Spanish I also "responded" to a tweet: #elmejorregalo (the best gift). You should be happy to know majority put that family was/is the best gift.
Spanish I: We have done a few stories throughout first semester. Sometimes we just read, sometimes we create stories together and other times they do the creating. It has been fun to see them use the language in ways that is meaningful to them.
Spanish II: It has been challenging for them as a whole this year. They do continue to work hard, and I look forward to this semester.
Spanish III: A very communicative group. We have enjoyed watching our telenovela and discussing it. At the end of the semester, they created commercials to be used for Striv—stay tuned to see if they air!
Composition: A very cheerful class to have as the last class of the day. Generally, students have mentally checked-out, but these kids always come ready to work. We have made steady progress in improving spelling, accents, word choice and writing conventions.
As we move through this second semester, I strongly encourage the students to check their weeksheet (weekly itinerary of my class) and communicate with their peers as second semester has many events and activities as well as beginning of flu season, I hope they stay on top of schoolwork.
¡Feliz Año Nuevo!
Sra. Buss
These are their tweets. Next time I'll have them write in marker!