Home Football Playoff Game vs Clarkson/Leigh
October 17, 2023
Johnson County Central is excited to host the Clarkson/Leigh Patriots for an opening round match of the 2023 Nebraska D-1 East Football Playoffs!
JCC vs Clarkson-Leigh will kickoff at 6 PM on Thursday, October 19th, 2023, at the high school football field, located in Tecumseh, Nebraska.
Admission will be $8 Adults and $6 Students (No Passes Accepted due to it being an NSAA post-season game). NOTE: Children 4 and under will be admitted free of charge.
All fans are encouraged to cheer on their respective teams for a great night of high school football!
Please use the map below for information regarding parking & locating the entrances for the football field.
Clarkson/Leigh at Johnson County Central
• D1 East First Round Football Playoffs
• Thursday, October 19th, 2023
• Kickoff 6 PM
• Tecumseh, NE
Entrances:
- West Side (top of stairs)
- Southwest Corner at Handicap Parking
- Southeast Corner at Visitor Parking Entrance
Parking:
- Visitors may park (and enter) in the grass on the southeast corner of the football field.
- There will be NO PARKING in the following areas:
- Circle Drive (reserved for JCC end of school day traffic + Clarkson/Leigh buses)
- Between the High School & Elementary Buildings
- Behind the High School east side (near the shop & weight room entrance)
- Reserved parking for JCC Event Staff & Workers will be behind the Elementary (east side)
Summary: After school on Thursday, October 18, all vehicles parked on the East side of the high school and the East side of the elementary will need to be moved. There should be no vehicles parked East of the high school and between the buildings from 4 PM until the conclusion of the football game. Parking East of the elementary from 4 PM on will be reserved for those working the football game (coaches, gate workers, concession workers, etc.). The only exception is that the maintenance truck and PK van will be parked in their usual spot.
Concessions/Restrooms:
- Located beneath the press box on the west side of the field
Press Box/Media Accommodations:
- The press box bays are assigned as the following:
- North Room: Visiting Coaches & Film
- North Open Bay: PA, Clock, Spotter
- South Open Bay: JCC Striv Broadcast Crew
- South Room: JCC Coaches & JCC Striv Cameras
- The JCC Striv Crew will be broadcasting the game on the JCC Striv Channel (striv.tv/jcc)
- Radio Coverage will also be available:
- Sunny 101.3 FM KLZA (Lucas Froeschl) - available online at mscsports.net
- Ol' Red 99.5 FM KUTT (Dusty Skahill) -available online at olred995.com (https://player.listenlive.co/53171)
- Tables/Chairs for Radio will be available near the southwest corner of the football field
---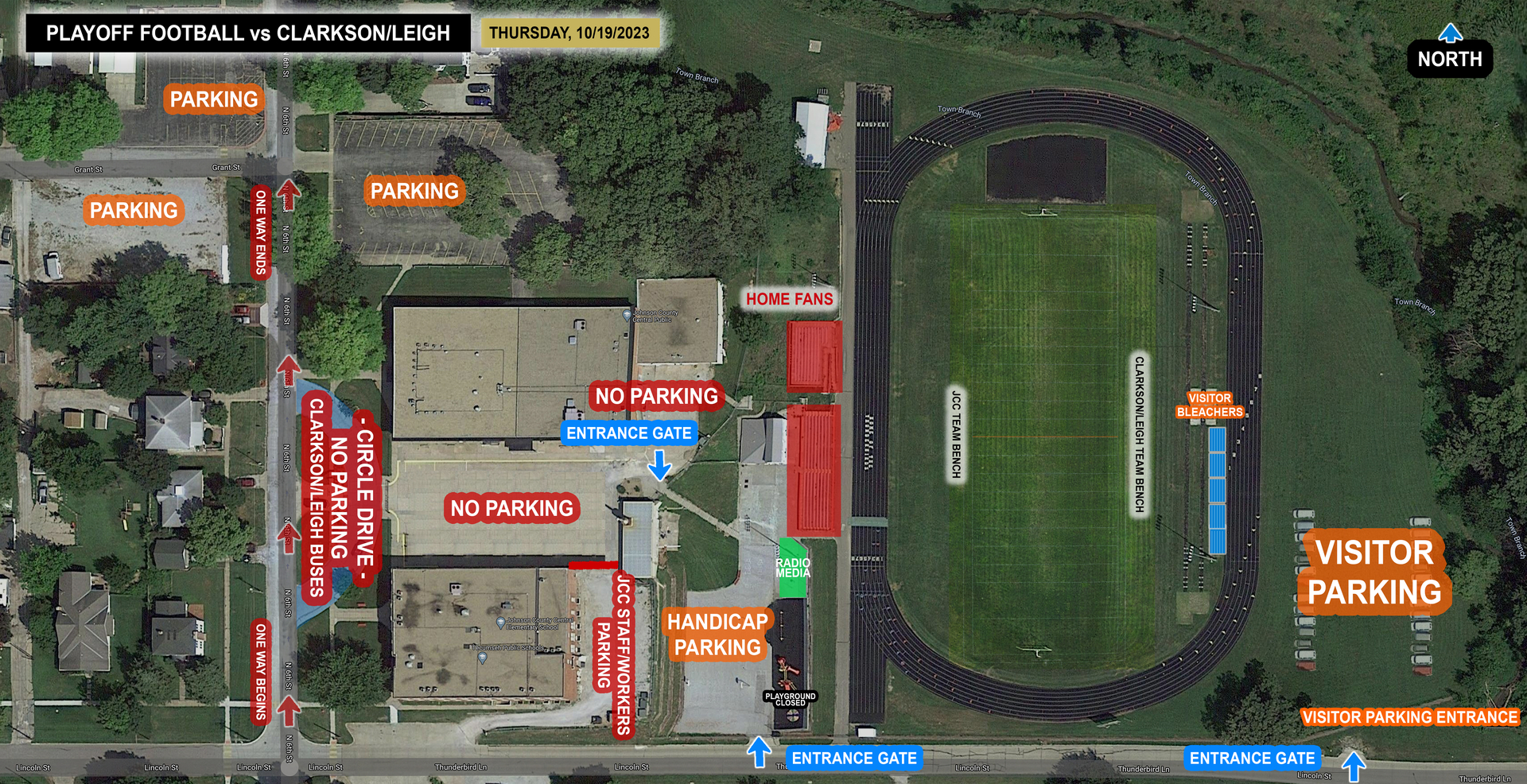 ---
CLARKSON/LEIGH PATRIOTS - MaxPreps
• Defending D1 State Champions (2022)
• 12th-Straight State Playoff Appearance
JCC THUNDERBIRDS - MaxPreps
• 3rd State Playoff Appearance (2009, 2013)
• Most Regular Season Wins In a Season (6)
Some quick highlights of tonight's @jccstriv broadcast of the JCC vs Clarkson/Leigh game. #GoJCC #nebpreps #strivschools #strivsports @Striv_Education @JCCENTRAL pic.twitter.com/GzgY3VVhAY

— JCC Striv (@jccstriv) October 20, 2023