2019-20 ECNC Basketball Tournament
The brackets have been released for the 2019-20 East Central Nebraska Conference (ECNC) Basketball Tournament. Good luck, Thunderbirds!
The JCC Striv Team will be streaming the Girls & Boys Championship Games live from SCC-Lincoln on Saturday, February 8th. Join us by watching on the JCC Striv Channel (www.striv.tv/jcc) or on StrivSports.com (strivsports.com/east-central-nebraska-conference-basketball-2020/).
---
2020 ECNC Basketball Tournament Championship Replays
Girls Championship: Weeping Water vs Malcolm
Boys Championship: Yutan vs Auburn
---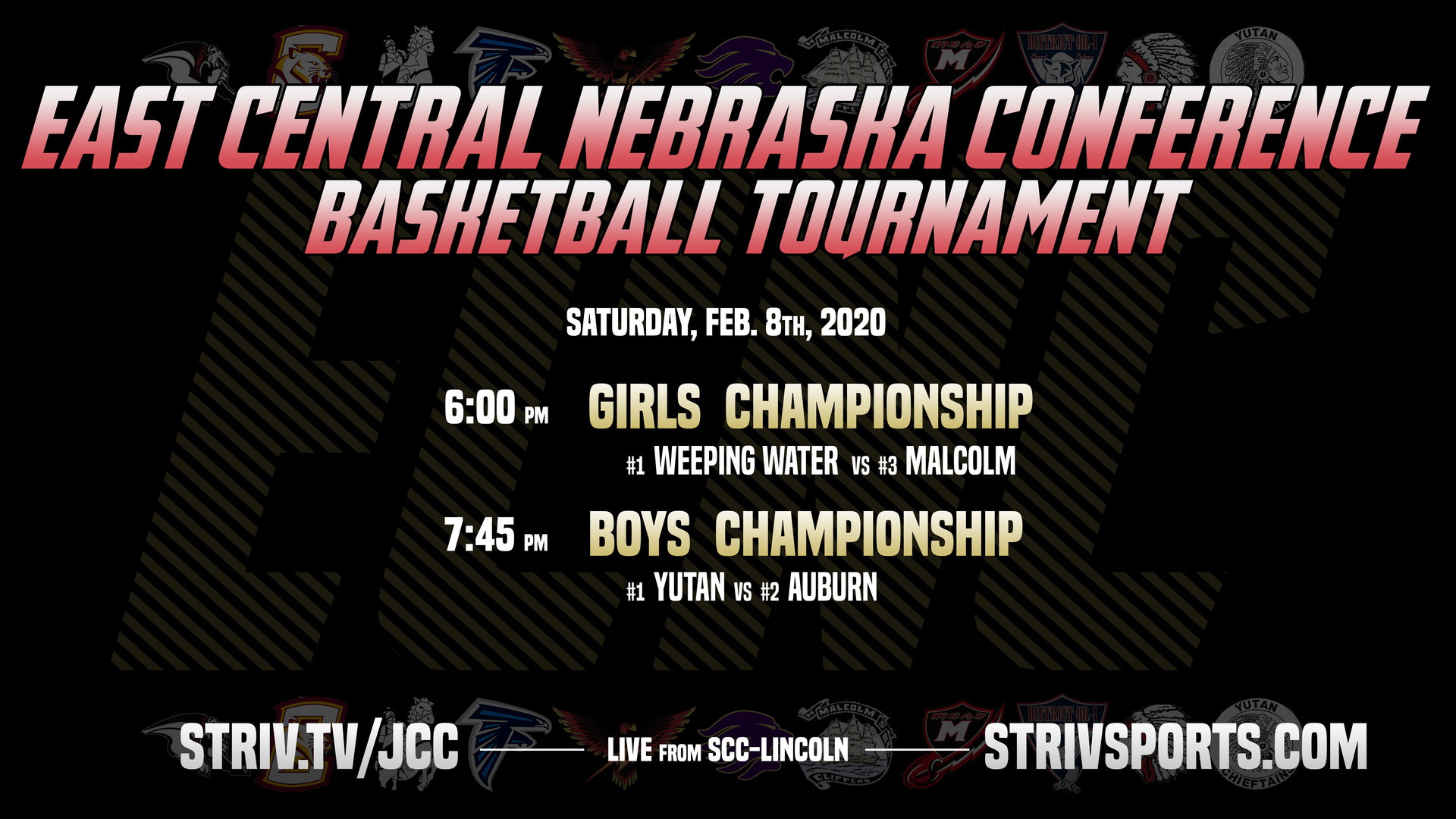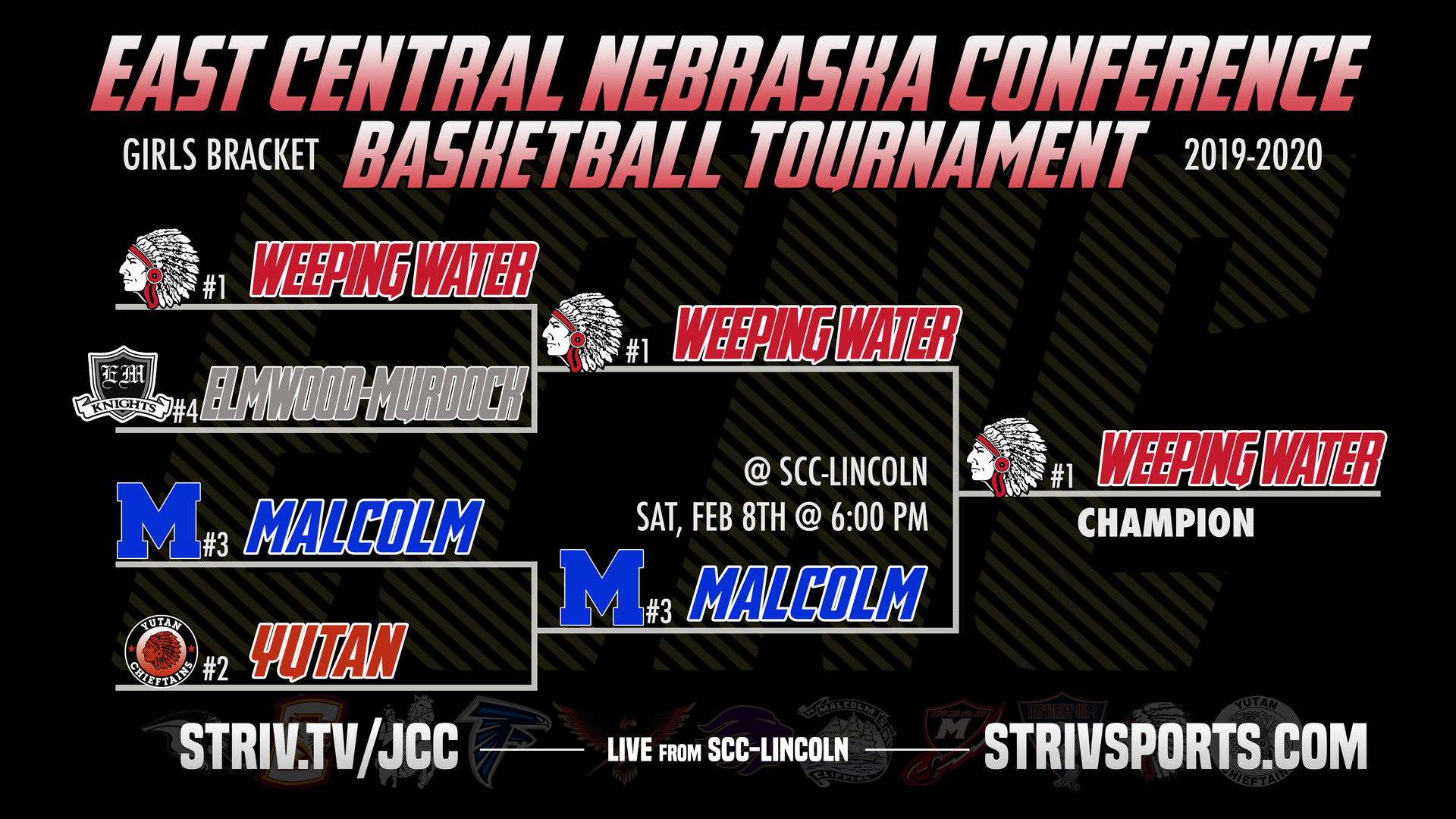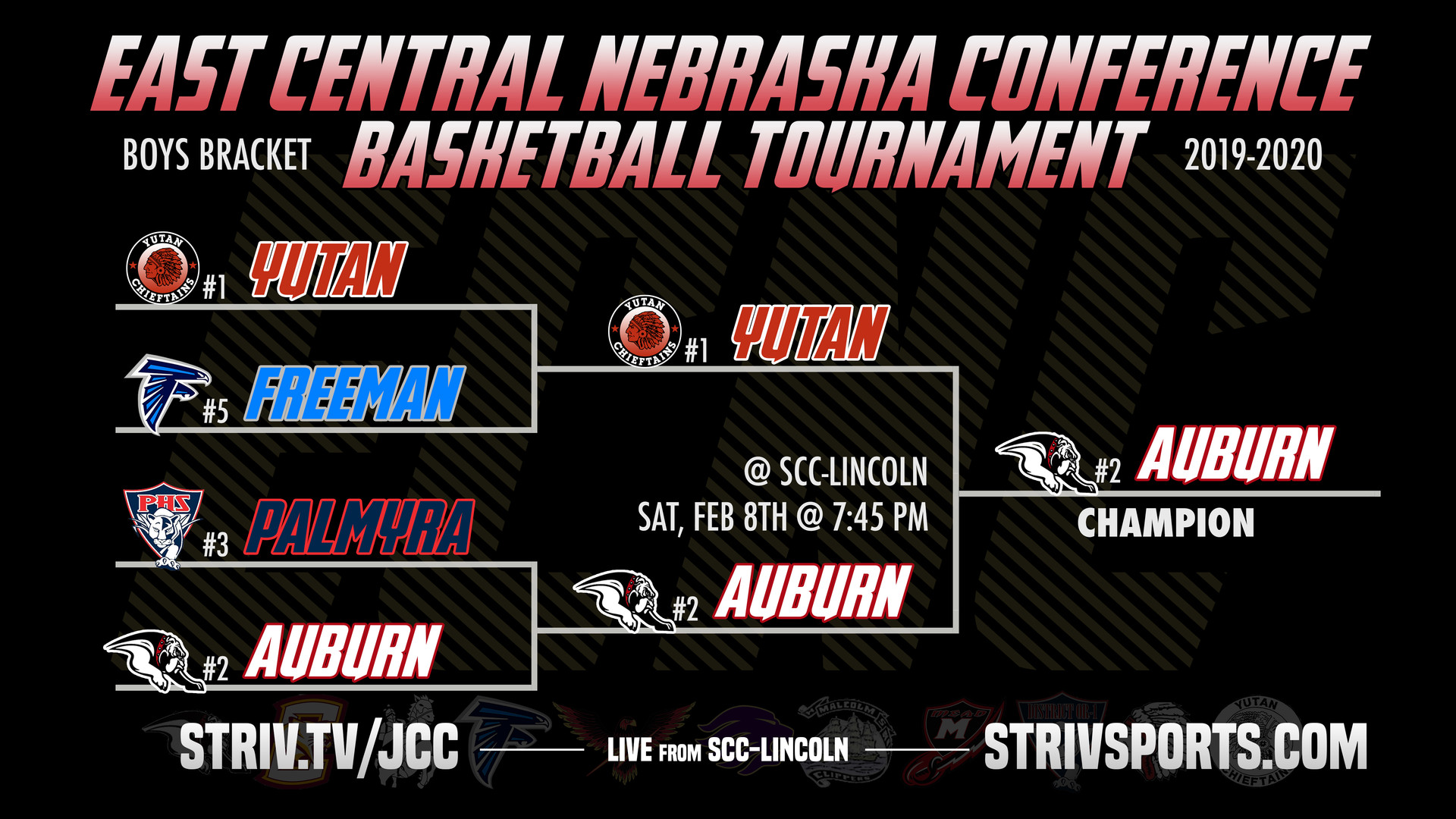 ---
FULL ECNC BRACKETS - FINAL
2019-20 ECNC Basketball Tournament Bracket - Girls (PDF)
2019-20 ECNC Basketball Tournament Bracket - Boys (PDF)
---
SAT, FEB 1ST RESULTS:
GIRLS:
#6 Auburn defeated #11 Conestoga, 44-30
#9 Louisville defeated #8 JCC, 44-26
#7 Mead defeated #10 Palmyra, 50-45
BOYS:
#7 Elmwood-Murdock defeated #10 Malcolm, 49-41
#8 Conestoga defeated #9 Weeping Water, 71-47
#6 JCC defeated #11 Louisville, 51-36
---
MON, FEB 2ND RESULTS:
BOYS:
6:00 PM - #1 Yutan defeated #8 Conestoga, 6-47
6:00 PM - #5 Freeman defeated #4 Mead, 54-43
6:00 PM - #3 Palmyra defeated #6 JCC, 70-55
6:00 PM - #2 Auburn defeated #7 Elmwood-Murdock, 64-26
6:00 PM - #11 Louisville defeated #10 Malcolm, 43-35
---
TUES, FEB 3RD RESULTS:
GIRLS:
6:00 PM - #1 Weeping Water defeated #9 Louisville, 52-31
6:00 PM - #4 Elmwood-Murdock defeated #5 Freeman, 37-36 OT
6:00 PM - #3 Malcolm defeated #6 Auburn, 48-29
6:00 PM - #2 Yutan defeated #7 Mead, 45-34
6:00 PM - #10 Palmyra defeated #11 Conestoga, 38-24
---
THURS, FEB 6TH RESULTS:
BOYS:
@ SECC (LINCOLN)
4:30 PM - Louisville defeats Weeping Water, 49-47
6:00 PM - Semifinal - Yutan defeats Freeman, 45-23
7:30 PM - Semifinal - Auburn defeats Palmyra, 47-35
@ Mead
5:30 PM - JCC defeats Elmwood-Murdock, 49-44
7:00 PM - Conestoga defeats Mead, 63-49
---
FRI, FEB 7TH RESULTS:
GIRLS:
@ SECC (LINCOLN)
4:30 PM - JCC defeats Palmyra, 60-37
6:00 PM - Semifinal - Weeping Water defeats Elmwood-Murdock, 37-27
7:30 PM - Semifinal - Malcolm defeats Yutan, 32-19
@ Freeman
5:30 PM - Auburn defeats Mead, 61-29
7:00 PM - Louisville defeats Freeman, 43-39
---
SAT, FEB 8TH RESULTS:
@ SECC (LINCOLN)
1:00 PM - Boys 3rd Place Game - Freeman defeated Palmyra, 55-52
2:45 PM - Girls 3rd Place Game - Elmwood-Murdock defeated Yutan, 39-30
6:00 PM - Girls Championship - Weeping Water defeated Malcolm, 48-44 OT - LIVE ON STRIV
7:45 PM - Boys Championship - Auburn defeated Yutan, 50-39 - LIVE ON STRIV
---
---
Click here for the results & replays of last year's tournament (2018-19)